If You Want to Know If A Woman is Confident, Look at Her Shoes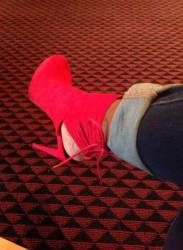 "You look like you should be in the musical Kinky Boots!" We both looked down at my feet and laughed loudly. I was happy he finally said something because he had been staring at me nonstop for the past 6 minutes or so. Because of his elderly age, I erroneously assumed he was thinking I was a hooker and was disgusted. Well, he could have still been thinking I was a hooker but was wondering if he could afford me. LOL! I'll take that! But the answer would have been no because my confidence level that night made me priceless. It didnt matter that almost every woman stopped to tell me how much they loved my shoes. What mattered most was how I felt about myself.
I thought every man loved to see women in the right pair of shoes but that was not the case with my ex. For him, anything flashy or nice on me took too much attention away from him. So me wearing a pair of flashy red shoes would have started a war in my house. I always had nice shoes and my own money to buy them, but as I have blogged before, to keep the peace, I mellowed out my style.
I lost my confidence. I lost my style. I lost my look. But when I put these on I rememebred who I was and felt myself regaining my power. Funny how a little thing like a pair of shoes can make you feel like a giant. That's how I felt wearing these. I walked with an elegant power into every room imagining I was stepping on every demeaning word ever thrown my way.
Regardless of where it comes from...shoes, a purse, prayer, love, friendship, etc., I wish you the same type of powerful confidence. A woman with the right pair of shoes is the most confident woman in the room.
You deserve a treat! Russian tea cakes recipe here.
Related Posts