Why I Give Away Shoes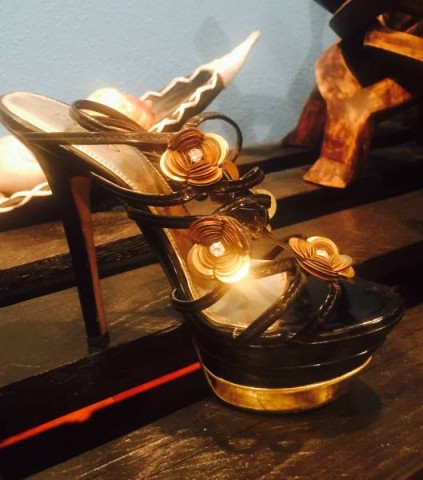 I thought it was important to write this because so much of what we do in life is criticized. Everyone thinks you have a selfish motive and are looking for glory when you do something nice for others. No one believes that you can just be kind, want to help others and need nothing in return. If you don't have nice shoes you get ridiculed. If you have nice shoes, you're judged. If you have too many nice shoes, you're shamed. If you give away shoes for free to help others, you're shunned. I don't feel I need to justify my actions, but I will clarify why I feel it is important to help other women feel beautiful.
First, why not? If I can make some lady happy by just giving her a pair of shoes, I think I should. I think we all should.
Second, every woman feels good when she is wearing the right pair of shoes. I remember once in high school, I wore a long black and white polka dot skirt with a black top and I looked really nice, which was a rare occasion for me. The problem was, my shoes were old and run over. On my way into English class, the English teacher said in front of everyone, "you would look cute if you had on better shoes." Well, that ruined it for me and what little bit of pride I felt about that outfit went away. I never wore it again because I didn't have the right shoes. I don't remember much of ANYTHING or ANYONE from high school, but I do remember that day and that comment from that teacher. I don't want anyone to ever feel like that.
Third, when a woman receives a compliment on her shoes, boy oh boy is she on cloud nine. Seriously, just ask any woman. I want every woman to feel that way as often as possible.
Fourth, unfortunately, people will judge you by the shoes you wear. As women, we are already judged on our body types, our hair, our clothes, etc. Wouldn't it be nice to help at least one woman not worry about being judged based on what is on her feet?
Fifth, a purely selfish reason is that I love to see women smile when they receive something for nothing. I don't need a thank you. Just knowing that someone has one less thing to worry about makes me feel good.
Now to the critics. The ones that think you forgot you came from a bad neighborhood on the Southside of Chicago. The people from high school who think you are showing off just because you are able to help others. The one person from college who thinks your life is a lie because you exceeded some goal they had set for you and goals they had set for themselves. They will all ask "how is a pair of shoes going to help a woman not go hungry or feed her family?"
Growing up I skipped school so often because I did not have clothes to wear. Every summer I dreaded the first day of school because I knew the first day was a fashion show. I grew up with a single mom who was not able to buy new shoes for me as quickly as my feet grew. There were many times I wore shoes past their due date and they were at least one size too small. My feet still have the scars from that ordeal.
As a teen entering the workforce, sometimes I walked into job interviews and was noticeably judged because of my attire or bad shoes. So, I did not apply for jobs in fancy offices. The interviews I did attend, my confidence level was not there because I kept following the interviewers eyes while they were glancing at my shoes, etc. Yes, this happens. And yes although we know this shouldn't happen and we should be judged on our skills, we live in the real world where we know people expect us to look the part. And no, we shouldn't care what others think, but at some point in our lives we do; especially teens and young adults. Until we get to the point where we are secure enough with who we are, yes we get there, I want to help as many people as I can along the way.
So, if a pair of shoes can give a woman the confidence she needs to walk into any room like she is the CEO or a superstar, then I want to give her THOSE shoes.

Related Posts