Because She Combed My Hair For My Mother's Funeral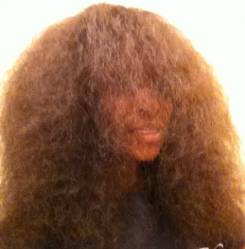 "Sit over here and let me press your hair". She put a chair in front of the stove like my mother used to do. Just like when I was kid, I reluctantly followed orders and thought all about the past times the back of my neck or tip of my ears were burned during this beauty ritual. Carrying all the sadness in the world, I dragged my feet while walking towards her and sat down in the chair. I had no energy to say no and her tone told me that refusing would be useless. She turned on the fire for one of the burners on top of the stove and put the curling iron in the flames.

My hair was the manufacturer of a new brand of kinky. Days of crying and wondering what to do next, where to go and what lies ahead, combing my hair had been the last thing on my mind.

I don't know if it was because I was numb or she really was as gentle as I'm remembering, but as she stroked my hair with the comb in preparation for the hot iron, I just melted. I remember her lovingly taking care of my locks to prepare me to say goodbye to my mother. The act itself is sort of a blur, but I know how I felt.

This one simple act made me feel warm and comforted during this rough moment. That is what I remember. This came across my mind today because it was Sunday and the day my mom cooked a big meal. When she died, a few years later, this same friend and I would talk on the phone every Sunday as we cooked our Sunday meal. We slowly stopped that ritual as life got too demanding. I started sleeping in late on Sundays and she started a family.

I was making my mom's Lemony Herbed Chicken Thighs and wanted to call her. But I couldn't. I thought about my friend and wanted to call her, but I didn't. I wondered why this particular friend came to mind. I don't know if it's because life is hectic right now and I would love for someone to stroke my hair and tell me everything will be OK. Or if it's because that small gesture comforted me and I need that type of peace right now. Or if it's because cooking my mom's meal gave me good memories about cooking on Sundays.

I don't know the reason and I don't want to over analyze. I just know that when I think of her and her kindness I smile warmly because she combed my hair for my mother's funeral.
Lemony Herbed Chicken Thighs recipe.
Related Posts